Sorry, dass dir der Artikel nicht gefallen hat! / We are sorry that this post was not useful for you!
Hilf uns, den Artikel besser zu machen! / Let us improve this post!
Teile uns mit, wie wir den Artikel besser machen können! / Tell us how we can improve this post?
Letztes Update: 11. September 2023
Traditional Cuban Cuisine For Everyone to Try Out
Today we're cooking Cuban again – as always, easy to recreate, we're not cooking heroes! But that doesn't mean that today's dish doesn't taste delicious. The Arroz con Pollo is so delicious that you will lick your fingers after it ? Sabrosooooo!!!
Arroz con Pollo is an absolute classic of Cuban cuisine due to its ingredients. The dish is also prepared according to a typical Cuban way of cooking, because the taste comes from a special sauce/spice, the sofrito.
What You Need – The Ingredients For 2 People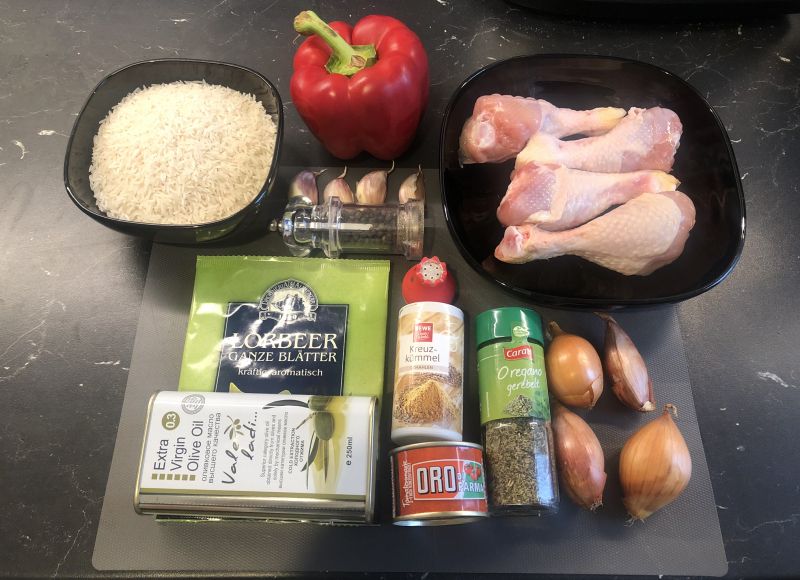 2 small cups of rice (quantity depending on type of rice, read the inscriptions)
Chicken, we took chicken legs. Approx. 2 legs per person
2 onions
4 cloves of garlic
lemon juice
1 can tomato purée
½ bell pepper (red)
cumin
oregano
1 laurel leaf
Bijol (see below) or turmeric
salt
a little pepper
oil, e.g. olive oil for roasting the chicken legs
Material: 1 pan and 1 pot/pan or rice cooker
The Best Rice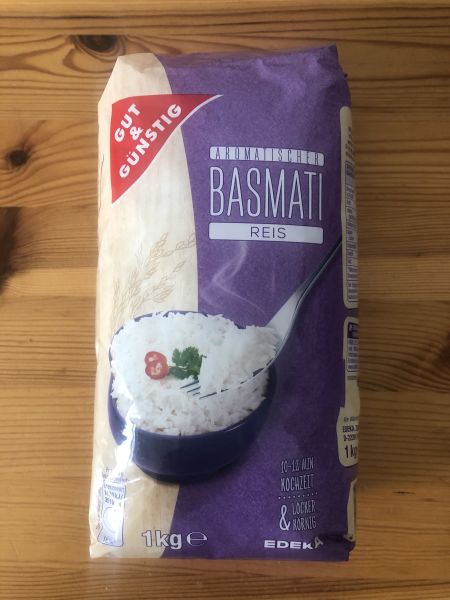 Cubans are rice specialists and so we have tried over a dozen rice varieties and have arrived at the "Good and Cheap" Basmati rice from Edeka, which has about the consistency and taste of Cuban rice.
If you don't have an Edeka around, try something similar: go for Basmati, but not the most expensive.
Bijol
Bijol (lat. Bixa Orellana) is a spice that occurs in the Caribbean and South America and is known worldwide under various names: Rubato, Annatto. Rukubaum, yuyuba, Jujube, achote, achiote Orlean, Urucubaum. The reddish-yellow seeds of the Bixa Orellana are often used as colouring agents and for this reason we need them for our Arroz. In our latitudes we find Bijol, for example, in cheddar, it gives the Cheddar its beautiful yellow colour.
Since we had no bijol at hand, we solved the problem the Cuban way and took for the colour turmeric/curcuma – saffron was a little too expensive for us ?
Arroz con Pollo – The Preparation
The Chicken Legs
We start our trip to Cuban cuisine with the chicken legs. You can also use other parts of the chicken, you only need to cut them into the right size – you don't have to cut the chicken legs.
Since the chicken legs should have taste and colour, we have to fry them first. But before, we let them marinate a few minutes (if you have more time: a few hours) with salt and a little pepper and we sprinkle them with lemon juice, half of the onions and garlic we spread on the legs as well.
After marinating, fry the legs in a pan with oil until the chicken legs are coloured on the outside – you don't have to cook the legs yet. But be careful that the onions don't burn!
Sofrito – The Sauce for our Rice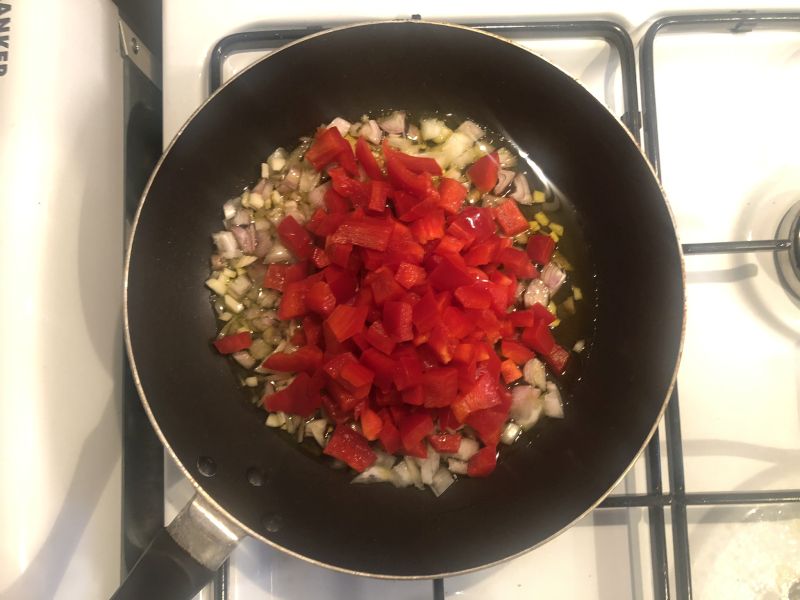 Sofrito is Spanish and means "slightly fry something". A Sofrito is a kind of mixture between sauce and spice blend. It is also the basis for many other Cuban recipes, e.g. the typical beans, the Congrí and other dishes.
While the chicken legs are frying, we create the spice blend we need for the Sofrito. We mix cumin, salt, oregano and bijol in a small bowl.
Now put the other half of the onions and garlic in a second pan or take the pot in which you also want to cook the rice. After a little roasting, we add the chopped half paprika.
Normally you use green peppers in Cuban cuisine, but the red one looks better for our recipe, so the reds are traditionally used for Arroz con Pollo.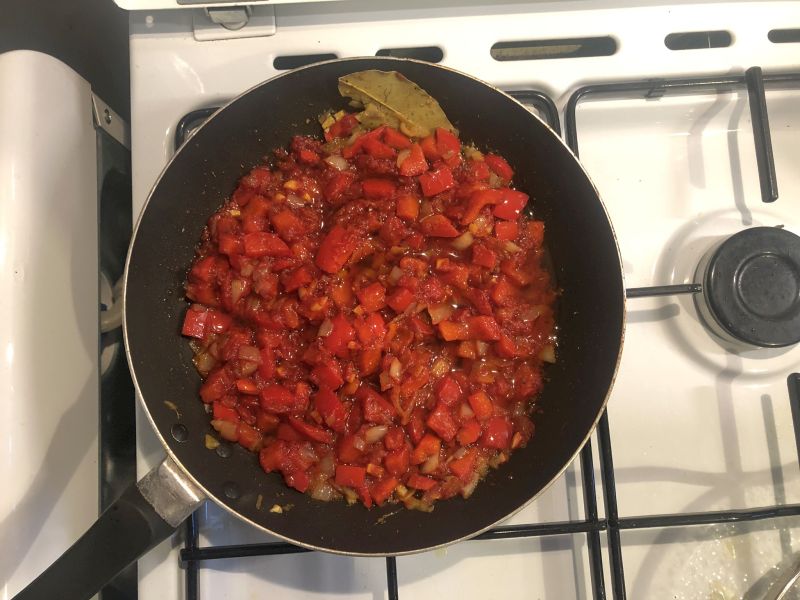 After a short time we add the tomato purée and our bay leaf, and cook a nice sauce. Theoretically, the tomato purée can also be added to the rice and doesn't have to be added to the sofrito – a typical sofrito doesn't have tomato paste – but adding it now in the sauce, the ingredients mix better.
While you prepare the Sofrito, don't forget to look after the chicken legs! The legs don't have to be fried, they just have to get their nice colour. They'll be cooked later, together with the rice. So: when the chicken has a nice colour, take it from the fire.
We Prepare the Rice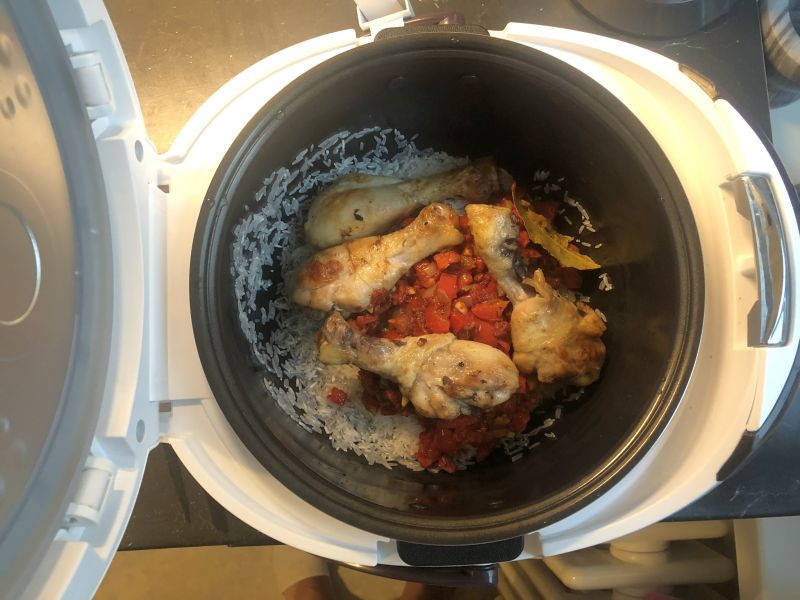 When the Sofrito is nice and soft and well mixed (after about 10 minutes of frying time), we pour it together with the chicken into the rice cooker – or a large pot if you don't have a rice cooker.
The rice cooker by the way is standard equipment in the Cuban kitchen!
Before cooking the rice, we wash it 2-3 times with clear water and only then add it to our mix. Add water (it says on the rice package how much you have to use) and stir it.
Our tip: you can replace the water for the rice with chicken broth to make the taste fuller. We just  improvised a little:aAfter the chicken legs were fried and brown, we poured a cup of water into our pan and let it cook with the legs – so we got a simple chicken broth, which we now use for the rice! Instead of 2 cups of water we use only one, we replace the other with the broth. Since our onions were burnt, we had to filter it with a sieve.
Disclaimer: our variant is not Cuban, either water or chicken broth is used.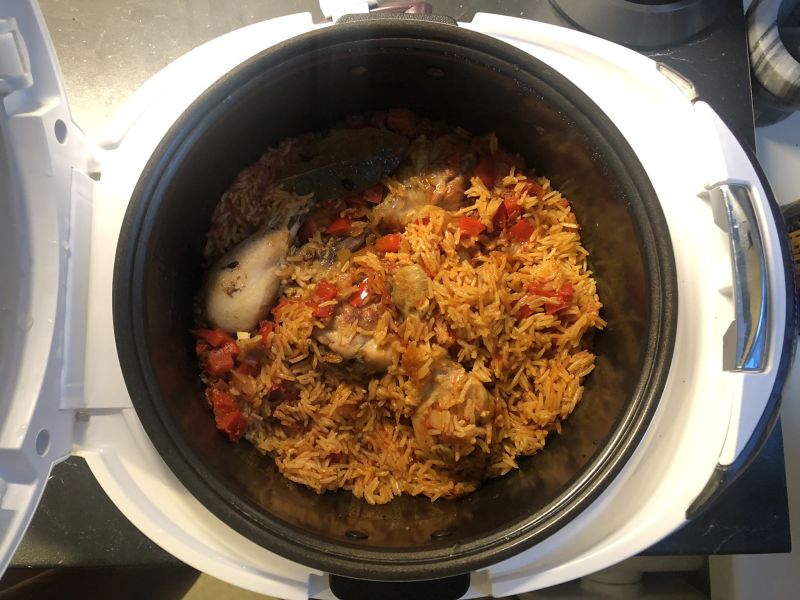 Now our Arroz con Pollo is cooked until the rice cooker tells you it's ready or the rice in your pot is soft. You may have to add water if your chicken has not let out much liquid.
The Cuban way would be to not eat it with salad, but to maybe cut a few tomatoes, cucumbers or an avocado. Alternatively one can eat French fries, Chicharritas or Tostones.
And of course a good 7-year-old rum for digestionshould not be missing 😉
Unser Arroz con Pollo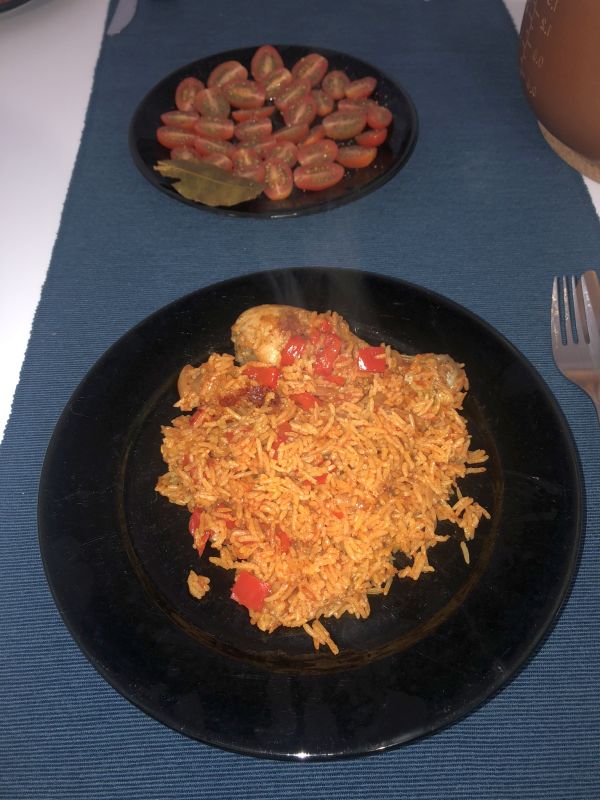 Now there are probably as many recipes for the Arroz con Pollo in Cuba as there are cooks, but our Arroz con Pollo definitely tastes great 😉 The remaining rice was just right for a quick lunch the next day – the chicken was gone, but of course it left its taste in the rice.
And now enjoy your meal and tell us how you liked the Cuban Rice With Chicken!
Buen Provecho!!!
Lianet & Dietmar
PS: Instagram anybody? We are there as well 😉
Sorry, dass dir der Artikel nicht gefallen hat! / We are sorry that this post was not useful for you!
Hilf uns, den Artikel besser zu machen! / Let us improve this post!
Teile uns mit, wie wir den Artikel besser machen können! / Tell us how we can improve this post?