Sorry, dass dir der Artikel nicht gefallen hat! / We are sorry that this post was not useful for you!
Hilf uns, den Artikel besser zu machen! / Let us improve this post!
Teile uns mit, wie wir den Artikel besser machen können! / Tell us how we can improve this post?
Everything you always wanted to know about rum but never asked 😉
The rum production is one thing, you can look at it in several museums in Cuba, I'm sure you've all done that already. Now let's take a look at what other interesting facts there are about rum, especially Cuban rum!
Rum among the Top 3 Spirits in the World
Rum is not only very popular in Cuba, but is also gaining more and more followers internationally. It is currently one of the three fastest growing spirits:
Tequila with 9%
Gin with 6%
Rum with 5%.
So while our beloved drink is not number 1 among spirits, it still gets the bronze medal!
Where was rum invented?

Unfortunately not Cuba, my dears, I have to disappoint you 😉 Barbados is the origin, the first mention dates from 1650 and back then the drink was known as "kill-devil" or "rumbullion", shortened to rum from 1667 onwards. The spread of rum in the Caribbean – and in the navy – goes back to Admiral Penn, who conquered Jamaica from the Spaniards with the British. The advantage of rum over the beer common in the navy was that rum stayed drinkable in the barrels much longer.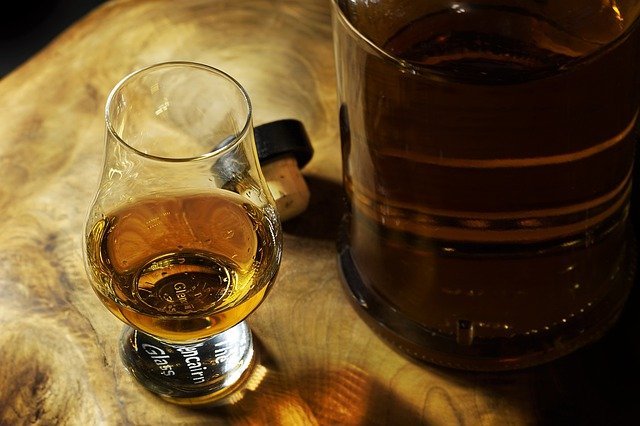 The problem with good rum
Good rum, i.e. rum that has been aged 12 years, is increasingly in demand. But now the Caribbean has a problem: the angel's share – what the angels drink away from the good stuff, i.e. evaporation – is particularly high in the Caribbean heat and is 8 to 10 percent. Per year!!!
A high temptation therefore also exists to thin out the rum, for example with sugar coloring, which is known from cola, or other spirits that have nothing to do with sugarcane.
Another trick is the indication of origin, which is based on the last country in which the rum was processed. Whether this is also a problem for Cuban rum, I don't know – but it would be possible, as for a bottle of Havana Club that we buy in Cuba, the bottle, cap, label etc. are imported from France. The only thing that comes from Cuba on the bottle is the rum – but I'm pretty sure about that. How it is with other rum varieties that are sold here as Cuban rum, but no Cuban actually knows by name, would be interesting to check out.
A problem that Cuban rums do not have is that of origin. Jamaica has a big problem there, that rum from Jamaica is not recognized as a protected designation of origin in Europe and there are various "Jamaica" rums that do not even come from Jamaica – and also do not meet their quality criteria. In that regard, Cuba fortunately has such a strong reputation as an island that no one counterfeits it. Just for comparison: if you put a whiskey on the supermarket shelf that is called something Scottish and it doesn't come from Scotland, you'll be sued in no time. Caribbean rums do not enjoy this protection.
What is the most successful rum brand?
This is also the hook that got me researching: I happened to come across the fact that the most widely distributed rum is by no means our Havana Club, but Tanduay from the Philippines! That made me wonder, as I thought rum was the classic Caribbean drink. But as with whiskey, the sheer volume of the population means that much more is drunk and therefore also produced on the Asian continent.
Among the top 10 best-selling rum varieties, Tanduay is number 1, while Cuban rum only appears in fifth place in the form of Havana Club. India and Jamaica appear twice, even Kenyan and Czech rum can place themselves ahead of the other well-known Cuban brands:
Tanduay (Philippines)
Bacardí (Bermuda)
Captain Morgan (Jamaica/Diageo)
McDowell's No. 1 Rum (India/Diageo)
Havana Club (Cuba/Pernod Ricard)
Barceló (Dominican Republic)
Old Port Rum (India)
Božkov (Czechia/Stock Spirits Group)
Kenya Cane (Kenya/Diageo)
Appleton Estate (Jamaica/Campari Group)
Here you also have an overview of the quantities, directly from Statista, which shows that Havana Club alone is already far behind in terms of quantity at number 5: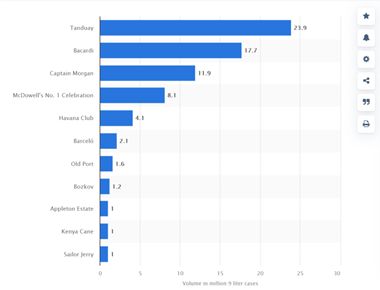 The only consolation is that with Tanduay, a rum still makes it into the top 10 spirits worldwide, also in 5th place. Interestingly, a soju takes first place, a drink probably familiar to fans of Korean series!
Rum sales by region
So you can get an idea of where rum is drunk, here are the sales by region. It is very clear to see the dominance of the South Asian markets, India and the Philippines – yes, also a former Spanish colony – are the dominant brands there, we can add Oceania to South Asia, while China, Japan or Korea have not yet acquired a taste for it.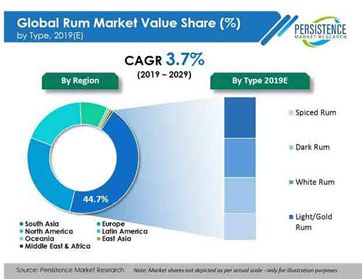 Corona and Havana Club
Already in 2019 things did not go well for Havana Club, sales did not grow anymore, the coming Corona crisis was also not helpful: 10% volume decline, from 4.6 million liters to 4.1 million liters fell the sale, rum total even by 11.2%.
The brand is countering this with various rum variants, e.g. the luxury bottling Tributo 2021, of which only 2,500 bottles are sold, or smoky rum aged in whiskey barrels. You can already find the pepped up varieties like Havana Club Verde on the shelves. That these variants are an abomination for purists is also clear. But if it reaches new rum drinkers, well, so be it…
When can something call itself rum
At least in the EU there are strict rules for this. The alcohol content must be over 38.5% and the sugar content must be below 20g/l. This is stipulated by an European Union law of 01.05.2021. This would mean, for example, that neither Legendario nor Ritual are rum, at least in the EU, even if it says so on the label.
(Thanks to Gunnar B. from the Facebook Group "Freunde von Kuba / Amigos de Cuba" for the info)
Competition for Havana Club
Havana Club is the most widespread rum here and in Cuba. But you surely know that there are other, often even better rum varieties. Now the variety of rum varieties available to us here in Central Europe will also increase, Diageo, one of the world's largest spirits manufacturers, has secured the marketing rights to Ron Santiago de Cuba, for me an absolute top rum, which will soon be on the supermarket shelves – I hope!
Havana Club and Bacardí
After the revolution, the Bacardís fled and nowadays, Bacardi rum comes from Puerto Rico and other countries, but no longer from Cuba. By the way, Bacardí has just lost a name dispute, they are not allowed to sell rum under the Havana Club brand in the USA, only Pernod-Ricard, Havana Club's international marketer, can do that.
You can't drink the real Cuba Libre anywhere
In the USA there is the original Coca Cola, in Cuba the original Havana Club. But in the USA there is officially no Cuban rum, in Cuba there is no US Coca Cola. If you now say: yes but you can buy Coca Cola in Cuba, then you are right. But this is imported from Mexico and it has a different sugar, namely cane sugar. And that means: while it is not impossible, it is not easy to drink the original Cuba Libre 😉
When should you celebrate with rum?
Any rum, whichever it is, is ideal for cocktails, here are some of the most famous Cuban cocktail recipes:
So if you have more input, please let me know – I'm not a rum expert either, just a passionate consumer 😉
Cheers and Saludos,
Dietmar
---
This article was translated with the help of AI.
Sorry, dass dir der Artikel nicht gefallen hat! / We are sorry that this post was not useful for you!
Hilf uns, den Artikel besser zu machen! / Let us improve this post!
Teile uns mit, wie wir den Artikel besser machen können! / Tell us how we can improve this post?