Sorry, dass dir der Artikel nicht gefallen hat! / We are sorry that this post was not useful for you!
Hilf uns, den Artikel besser zu machen! / Let us improve this post!
Teile uns mit, wie wir den Artikel besser machen können! / Tell us how we can improve this post?
Letztes Update: 11. July 2021
Flying to Varadero
After Havana Airport, Varadero Airport, the Aeropuerto Internacional Juan Gualberto Gómez, is the second-largest airport in Cuba and is visited by many tourists. Varadero is the tourist centre of Cuba. As the airport does not offer much variety, I thought I would write an article about what you can do there: where to get food and drinks, for example.

As Varadero is a small peninsula, the Airport is about 40 minutes away from the city of Varadero.
Why Varadero
But first of all: why fly to Varadero? Firstly, many airlines from Europa and North America fly to the airport.
And secondly: the airport is emptier, cleaner and quicker than the one in Havana – I also think that there are fewer checkpoints overall.
And thirdly, Varadero is of course the tourist resort of Cuba, the beaches are super beautiful and empty – great for everyone who is used to crowded Mediterranean beaches!
Transfer to Havana
Havana is 135 kilometres from the airport, about 2 hours by bus. Here is a map of how to get to Varadero airport.
If you are travelling all-inclusive, then you don't have to care of how to come to and from the airport, as your transfer will be included.
The Viazul bus
Those who want to go from the airport to Havana can take the Viazul bus. But before you do, find out if it is still running at the time of your arrival (the last one will leave at about 18:20 – but things change often in Cuba). If the bus does not leave from the airport, you will have to take a taxi to the bus station in the city of Varadero. If it's too late for any bus, you will "have" to spend a night in Varadero – and on the next day enjoy the heavenly beach! There are some Casas Particulares near the bus station, so nobody has to sleep on the street.
Currently, it is often difficult to get a bus to Havana because of the many tourists, they are simply overbooked, or the regular fuel shortages. Although you can book from here via the internet, I would still not rely on your seat being free, maybe somebody "paid" more for your seat…
By the way, the bus to Havana also stops once on the way, so there is a little pee break, and you can fortify yourself for the 3-hour-trip with a hot coffee, a beer or two or the first Cuba Libre!
The taxi infrastructure
There are plenty of taxis at the airport, which will bring you to Havana in 1,5 to 2 hours, I guess that you will cost about 2.000 to 2.500 Pesos. Sometimes you are lucky and there is a taxi driver who wants to go to Havana anyway and will take you for cheaper. Or you can carpool – the distance is not that long, and you can cuddle in the backseat if it's tight. The taxis have air conditioning anyway…
Riding on the tourist bus
There are a number of tourist buses that take the freshly landed tourists to Havana. You can ask there and come along for a reasonable price, we were told that it is 250 – 500 Pesos per person. But you can't negotiate much, because they have formed a cartel and agreed on the prices 😉
By the way: whatever you do, take a few cans of beer for the trip, it's always a good idea, then you can really start enjoying Cuba!
Transfer to Varadero
The airport is a little outside Varadero, about 25 kilometres, so it is not very close. That means it takes about 40 minutes by car. Take this into account when planning your trip so that you don't miss your flight!
Taxi and Bus
Taxi and Viazul bus also go to Varadero City, the bus has the same problems as mentioned for the Havana bus. The taxi costs about 900 Pesos and takes you to the city in about 40 minutes.
Double Decker Bus
I read that there are also some sightseeing buses that go to the airport from Varadero city. The day ticket costs 5 CUC. I can't tell you if you can go with all your luggage and how regularly they come, because I haven't tried it myself yet. So if you are standing at the airport in Varadero, look out for a double-decker bus. I would be curious about your experiences!
By rental car
There are also car rental stations at the airport, but you cannot book there spontaneously, you have to order your car in advance from home. The pickup can also take some time, so plan on that.
And as I always like to write: my secret tip for a rental car is the Geely Emgrand, a good Chinese limousine, which even passed the ADAC (=German car organization) test.
The horse carriage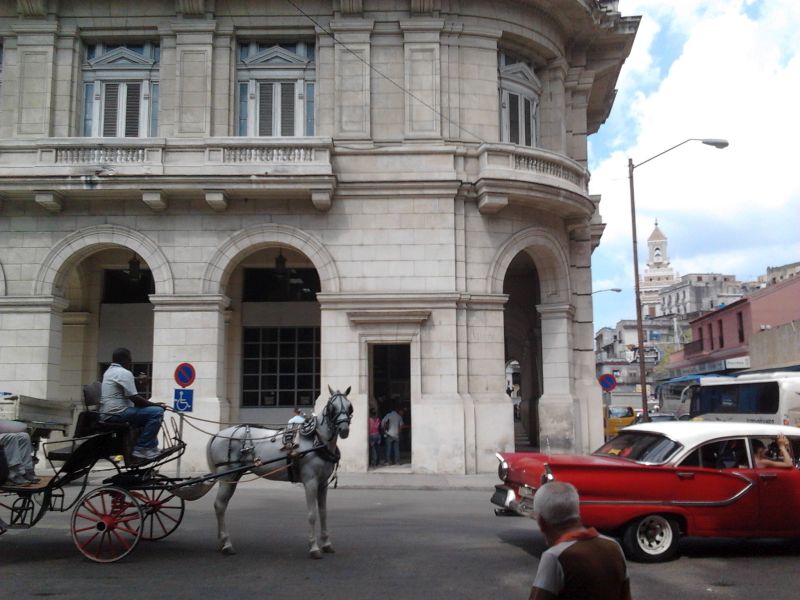 Just because Varadero airport mentions them: theoretically it is also possible to go from Varadero city to the airport by carriage, but I wouldn't put it on the poor horses, it's a long distance from city to airport – 500 Pesos for the whole day 😉
Supply: Snacks and cafes at the airport
There is not much possibility for dining at the airport, they have only a hazy self-service restaurant. But outside there is a private snack bar on the left side of the airport where one can sit. There is also  a state bar with excellent espresso, a little to the back. There, one can also sit nicely.
Those who do not want to sit in a restaurant but simply want to drink a cold beer will find a small sale on the left side and they have the usual prices, not the excessive airport prices. You can find benches around, so you can enjoy the last hours in Cuba with a view into the magnificent sky.
Attention only, the bars and the sales close between 19 to 21 o'clock.
Buying cigars
You can buy cigars before and after the border control, in general the price is mostly the same unless you look for bargains. For example, in the duty-free area, at a bar, I only paid half as much for some Montecristos as in the shop opposite of it. So before you buy, first compare prices!
VIP lounge at the airport
There is one, and you can book it in advance, even if you don't have a VIP ticket – although the information circulating on the net is unclear. However, they only offer Cuban standard, so it is questionable whether paying for the VIP lounge really makes sense. Nevertheless, there seems to be a special package that you can book with some airlines, which includes not only the VIP lounge but also priority passage through the check-in counters at passport control.
Mail
If you still want to send postcards, you will find a small post office in the main hall on the left, which is unfortunately sometimes closed. But it's not that bad, after the check-in, there is a post office on the left-hand side which includes a mailbox. So you can use the waiting time to write postcards to your loved ones – they will arrive about 2 to 3 months later anyway.
Rum and perfume in the Duty-Free Shop
The prices are not the best, this is partly due to the fact that the Duty-Free Shop is actually not a real duty-free shop – in the strict sense, there are no taxes in state shops in Cuba and there also there is a shortage of products. And who thinks that he or she can still stock up with creams or perfume is wrong, there is no such thing in the Cuban Duty-Free, there are only the normal goods that are also available everywhere in Cuba: cigars, cigarettes, cookies, coffee, souvenirs.
If you plan ahead, you can buy all of those products before you hand in your luggage, e.g. at the stall on the left in front of the airport – you are only allowed to take one litre of rum per person with you anyway – and funnily most products are more expensive in the duty-free.
Another thing that spoils the prices is the security bag, which you also have in Cuba – it costs, surprise, 25 Pesos extra!
Theft at the security check
As is reported in the HolidayCheck forum, people like to steal a few notes when their wallets are searched. I myself cannot confirm this, neither I nor my students have been affected. Nevertheless, my tip: put your Euros and Dollars into your trouser pocket, the metal strip on the notes doesn't set off an alarm.
Short skirts
If you ever wondered why the uniforms of the girls working at the airport security are so short and who approved it: they sew them shorter, officially the standard skirt is longer 😉
Waiting time at check-ins
Especially if you're flying with companies that transport a lot of holiday guests, you should make sure that you either check-in online (hardly anyone in Cuba does that, that's my insider tip) or arrive with plenty of time – the Eurowings counter opens 3 hours before departure.
Because from one moment to the next the empty Condor check-in counter is suddenly full to bursting after a convoy of 4 buses has spit out the tourists. So: if it's empty, get there quickly, you don't have to go to security immediately afterward, so you still have time to enjoy the sun outside.
Check delays
There are some providers where you can see if your flight is delayed by indicating the flight number.
If you speak Spanish, you can also simply call the airport, they give information about delays: +53 (0) 55 36 12/3
Internet at the airport
If you still have money on your internet card: now you can post your Instagram pictures, because the airport has WiFi. You can also buy internet cards there, but I seem to remember that they are more expensive.
So, do you have any tips for Varadero Airport? A friend of mine with a good taste told me that there is a Paladar (= private restaurant) somewhere next to the airport you can eat well – but I couldn't find it. Just write a comment if you know something about that 🙂
Saludos desde Berlin
Dietmar
Sorry, dass dir der Artikel nicht gefallen hat! / We are sorry that this post was not useful for you!
Hilf uns, den Artikel besser zu machen! / Let us improve this post!
Teile uns mit, wie wir den Artikel besser machen können! / Tell us how we can improve this post?