Sorry, dass dir der Artikel nicht gefallen hat! / We are sorry that this post was not useful for you!
Hilf uns, den Artikel besser zu machen! / Let us improve this post!
Teile uns mit, wie wir den Artikel besser machen können! / Tell us how we can improve this post?
Letztes Update: 24. May 2021
Banana leaves? Inferior tobacco? Cloth remnants? Counterfeits? We asked the expert!
Cuba and cigars, they simply go together. But what should you pay attention to when you buy cigars in Cuba? Christoph Puszkar from 5th Avenue, the official sole importer of the famous Habanos, will give you a little help.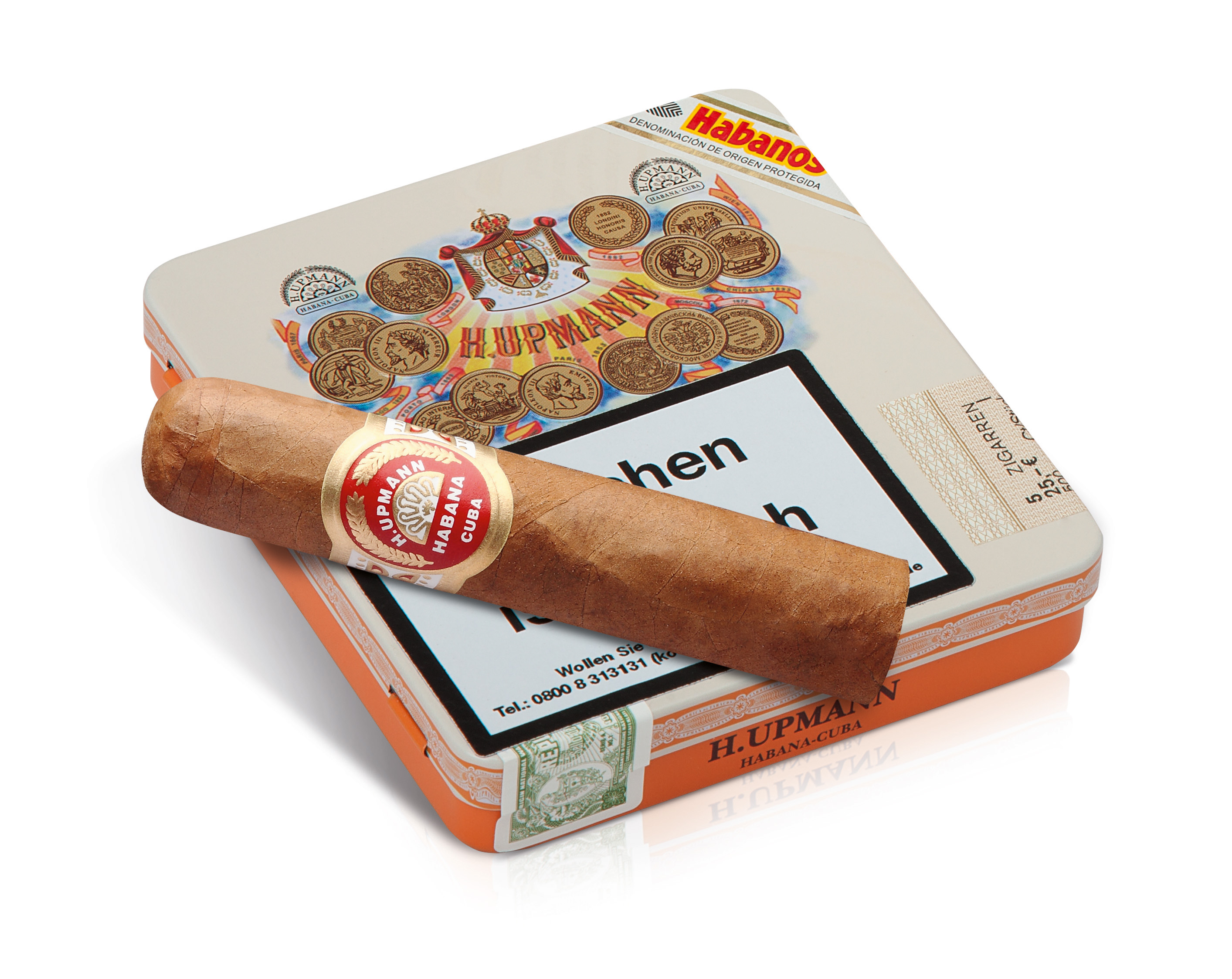 ---
Some tips, what you have to pay attention to when buying cigars in Cuba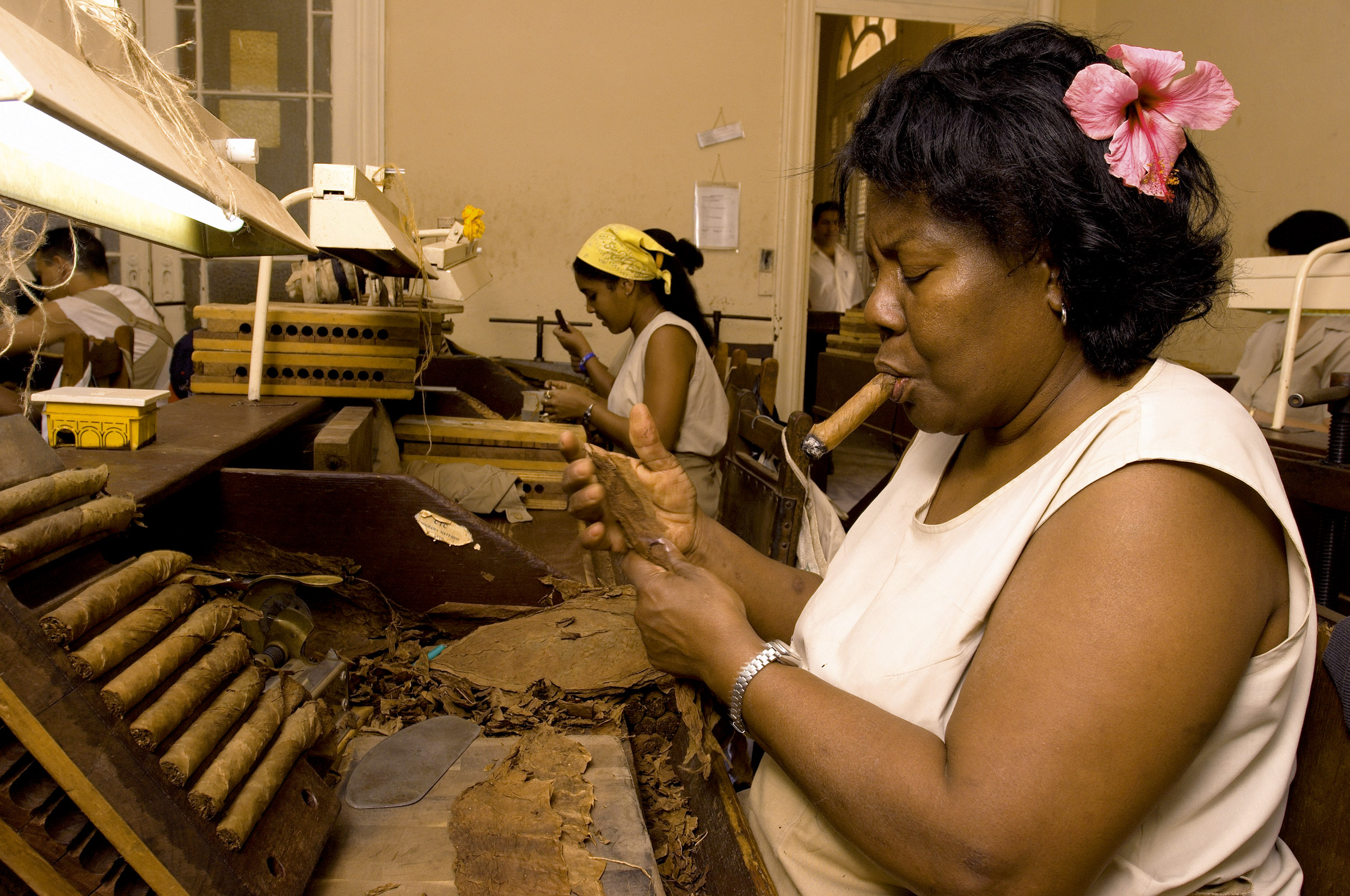 The Cuban cigars are unique and enjoyed by many throughout the world. Except perhaps among non-smokers, but that should not be our topic here.
Basically there are two kinds of cigars for sale in Cuba. The first type are the Habanos (Spanish for the Havana cigars and at the same time a legally protected designation of origin) and the other type are the cigars for the Cuban domestic market, however, these are not exported. The latter can be bought in the state food stores, the so-called "Bodegas", where Cubans shop with their "Libreta" (ration coupons for certain foods). These cigars cost one Cuban peso per piece. This corresponds to about 4 Euro cents. They are hand-rolled short fillers and packaged in paper bundles. The tobacco used for these cigars are mainly from the East of Cuba and are lower in quality. Due to the low-quality tobacco used, people tend to desire rolls with higher quality. I do not want to waste any more time talking about these cigars.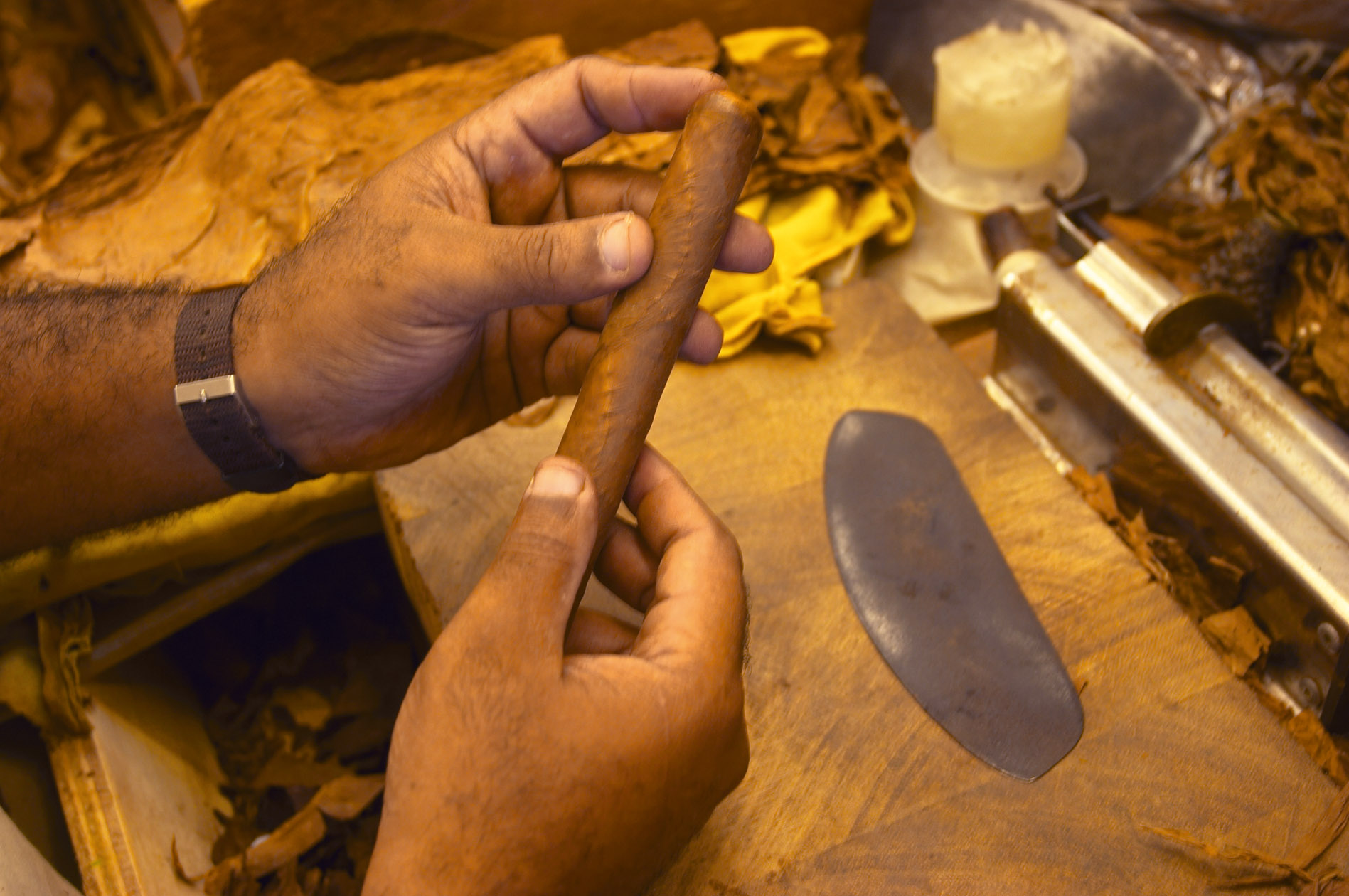 Because in terms of Cuban cigars, people are actually talking about the world-famous Habanos. The most important brands of Habanos are Cohiba, Montecristo, Romeo y Julieta, Partagás, H.Upmann, and Hoyo de Monterrey. However, there are 21 other brands that are also sold in many countries around the world. Almost all Habanos are completely hand-rolled long-fillers. A "long-filler" is when whole tobacco leaves are used for the filler. Only the cigars of the brands José L. Piedra and Quintero are exclusively produced as short-fillers and also by hand. The tobacco used for these comes from the east of the island and is found to be cheaper.
On the subject of price we come to the essential point: Why are Cuban cigars bought in Cuba? First of all, they are 30 – 40 % cheaper there than in Germany. Nevertheless be careful, tourists on the streets of Cuba are often confronted by someone trying to sell them a fake cigar. This could also occur in a restaurant, hotel, taxi etc. Cigars are offered to tourists in these places will be considerably cheaper and one can get a box with 25 pieces of the famous Cohibas (in Germany they are sold for 300 Euro) for a slim 50 CUC. Included in this cheap price the "seller" will tell you a great story on why these cigars are so incredibly cheap. Usually the story goes that the person who offers these cigars knows someone who works in a Cuban cigar factory and gives them to him for a very reasonable price. No matter how great the story is, it is definitely complete nonsense! Interestingly enough however, it is true that the Torcedores (that's what the cigar rollers are called) are allowed to roll and take three cigars a day for their personal use.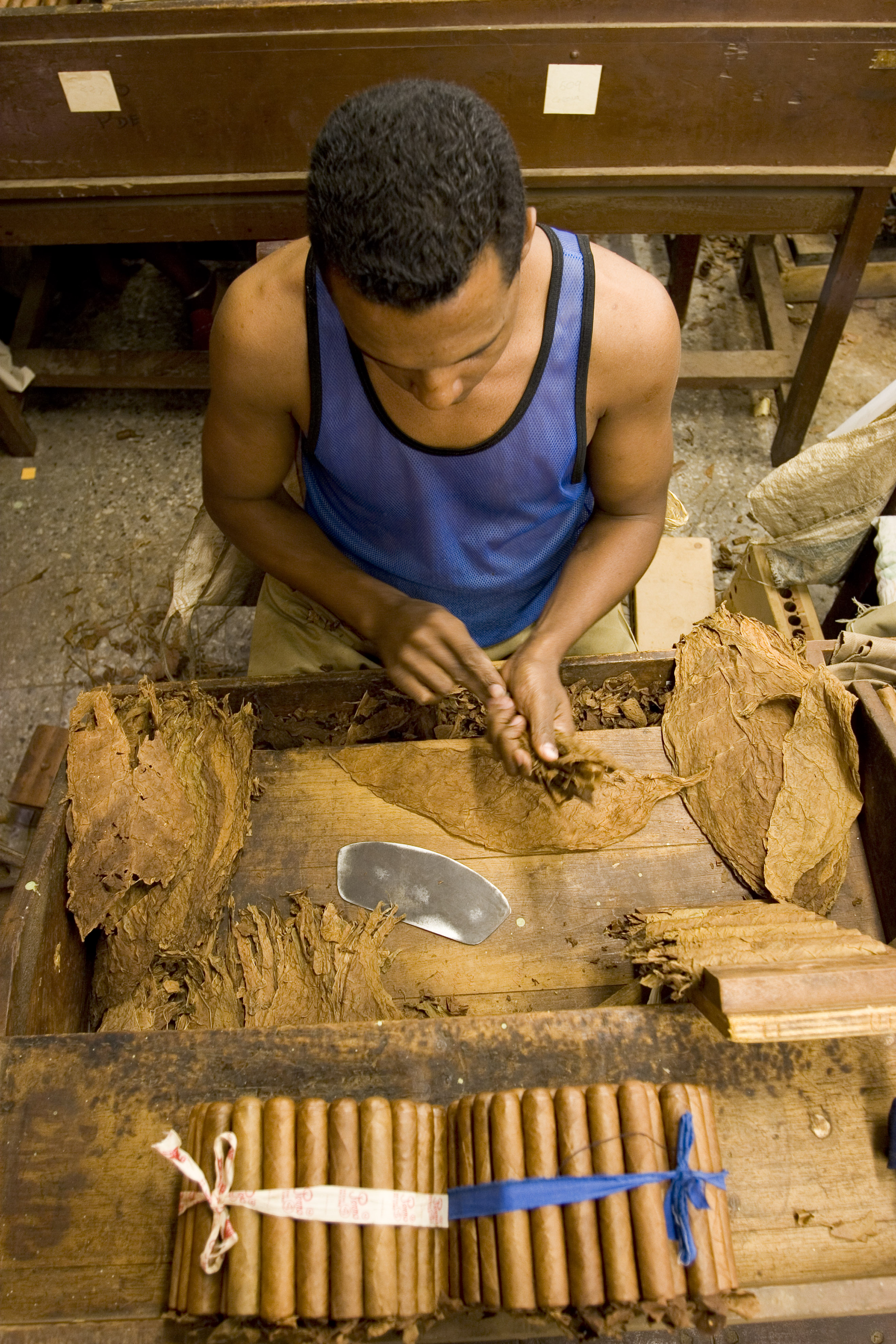 However, cigars taken by the Torcedores do not carry a ring and are not taken in a box. So forget those nonsense stories! What you are most likely being offered is and without exception in all cases are fakes and nothing else! These fakes are of a very different quality, it contains not only tobacco but also paper, fabric remnants, banana leaves, or unfermented tobacco. Of course you can ask the dealers to cut up a cigar so you can at least see whether or not only tobacco has been processed. However you cannot see the quality of the tobacco being used. Furthermore, the blend being used will certainly not be the usual blend of the respective brand and therefore will not have the desired taste. Therefore my advice: keep your hands off such offers!
But where is the best place to buy Habanos?
They are not on every corner in Cuba as you would expect, but you can buy them in quite a lot of shops. Unfortunately it has to be said: Even buying a cigar in one of the state shops in Cuba is not a guarantee that you will get an original good! It happens again and again that the employees try to supplement their (not exactly lavish) wages by selling fakes. And where would that be easier than in an official shop? Speaking of, you should never buy individual cigars, the danger of forgeries is even greater than when buying cigars in closed boxes.
The shops of the franchise network "La Casa del Habano" are recommended as a (relatively) reliable source for original goods. These can be found in the large hotels and in the old town of Havana. They can also be found in Varadero and in larger cities in Cuba.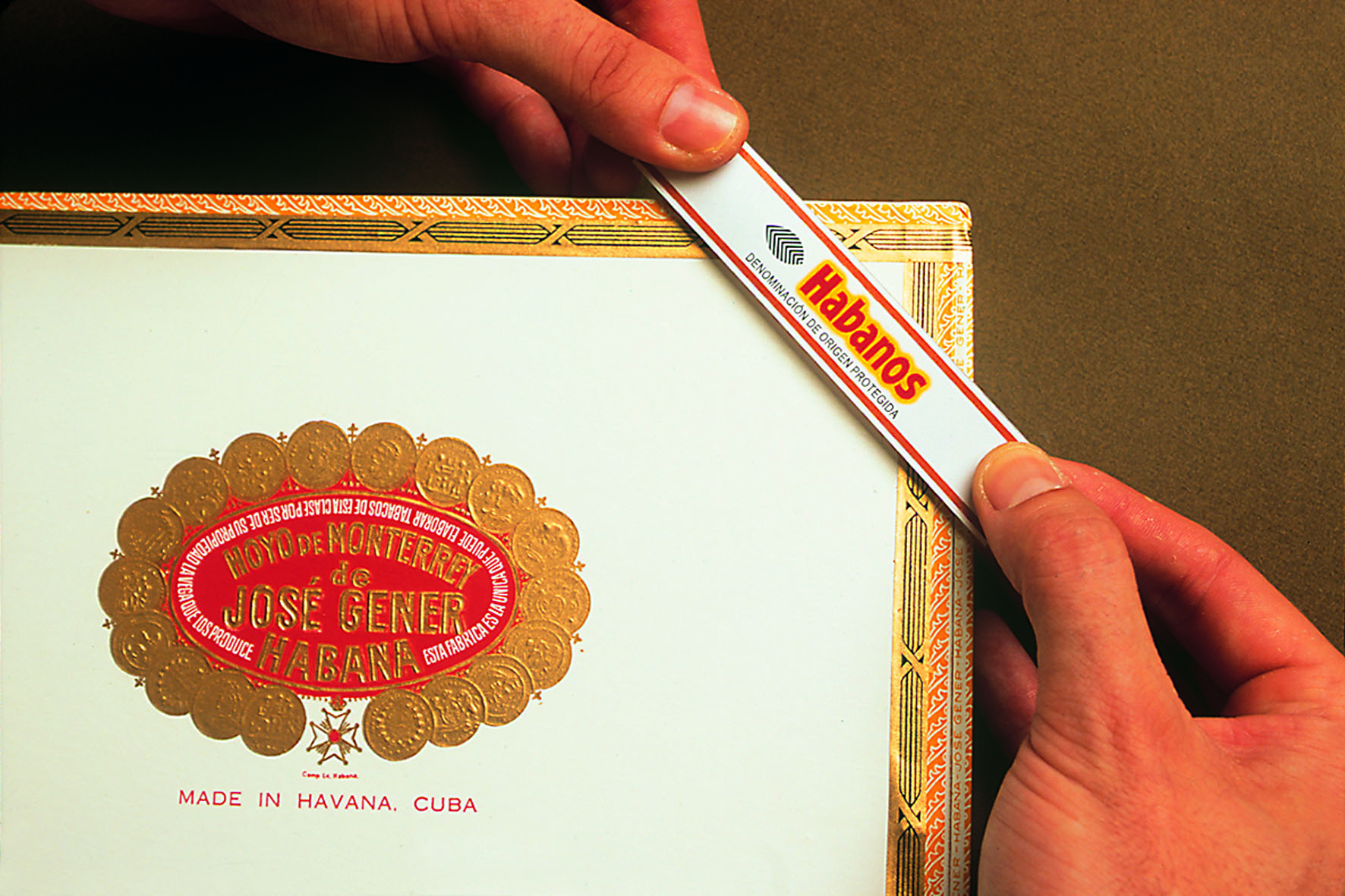 Wherever you buy, you should make sure that the boxes have the green guarantee seal of the Republic of Cuba on the lower-left hand corner and the seal of origin on the upper right-hand corner. You can find pictures of them here.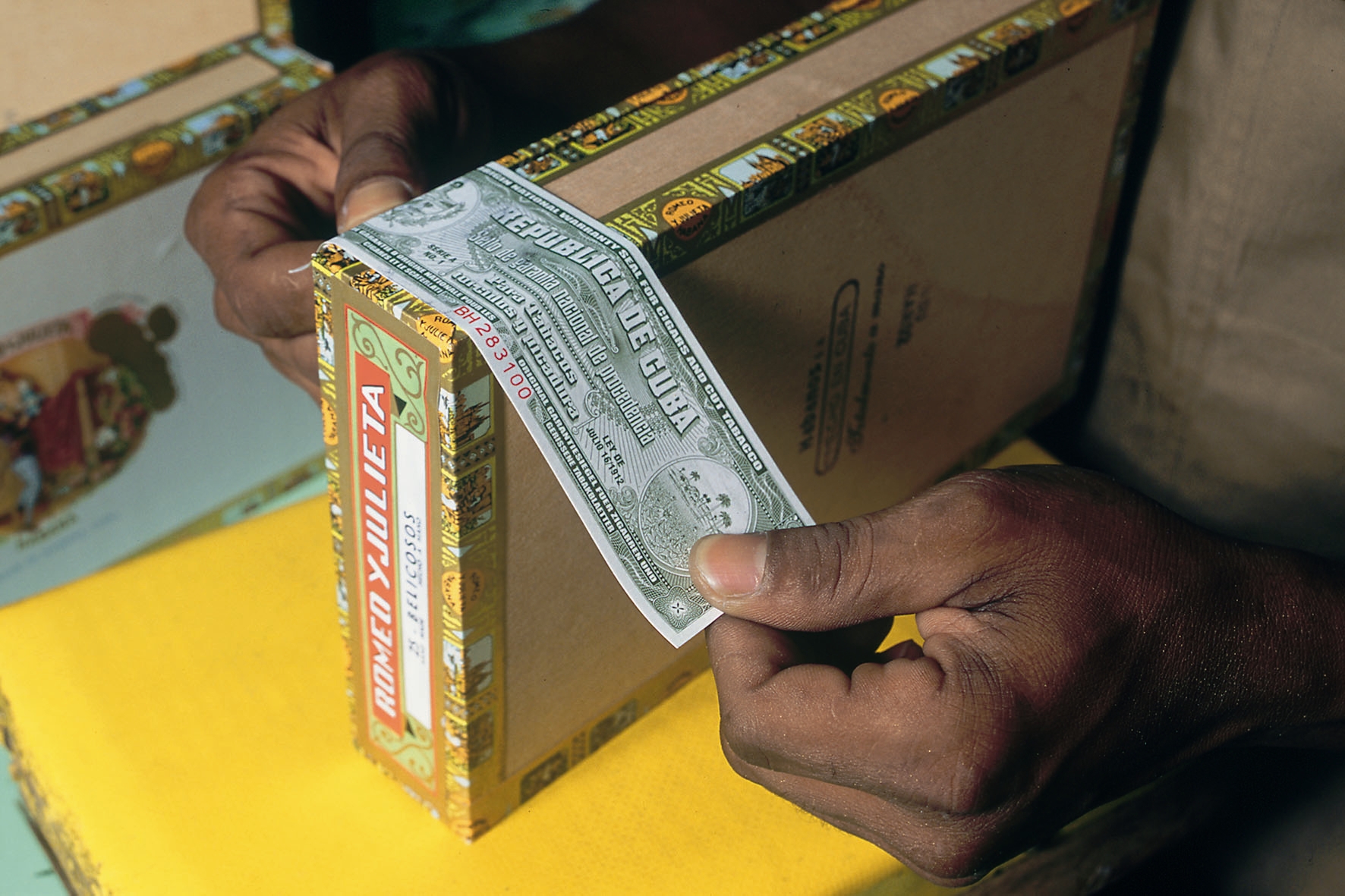 In a case of a forgery these two seals (mostly likely will be a bad reprint) are simply enclosed. This can also be viewed occasionally on eBay, when such "holiday bargains" are then resold.
But if you want to exclude any risk of buying fakes, there is another way to buy very good and special Cuban cigars. In La Casas del Habano there are usually permanently employed torcedores who demonstrate the production of cigars right there. They also sell self-rolled cigars. These are of course without a ring and box, but mostly made from good to very good tobacco and you can also request different cigar formats (slim or thick, small or larger) and have it rolled there as you wish. Personal preferences (milder or stronger) are also gladly taken into account. Such cigars are of course no Habanos, but they are usually very good and make for a nice gift for a cigar lover at home. A knowledgeable cigar smoker will definitely be much more pleased about these hand-crafted cigars than a box of fakes.
---
Thank you very much for the enlightening article, Mr. Puszkar! As an amateur packer who regularly buys cigars in Cuba, I was able to pick up a few things and I think some of our readers did too.
Once again many thanks for the support to 5th Avenue!
Saludos from Berlin
Dietmar
From the comments
Extension of the article by Wolfgang Einecke
Since Wolfgang has given me so many hints, I thought: this might also interest you, not only as one comment among many, but because he is also a passionate smoker, Cuba-Afficionado and Habanos specialist:
Great contribution, because Cristoph Puszkar is a proven expert and Habanos specialist. I especially loved the tips on buying cigars in Cuba. Mostly we are driven by greed or the hunt for bargains to buy the cigar on the street. However, an original Habanos is not available at a cheap price. Anyone who has ever been able to trace the path from seed to box knows that we are talking about handcraft in the truest sense of the word.
I like to show friends all the individual parts of the packaging process with all its tricks.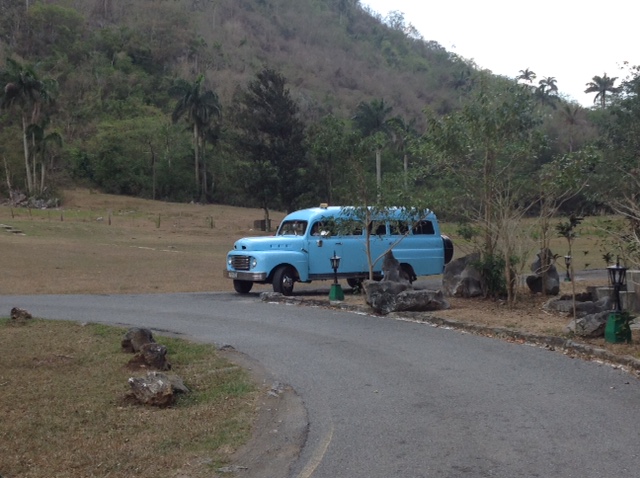 I'm particularly keen to point out: Never give it away to connoisseurs because they take it badly to be taken for a ride.
Likewise, there is no such thing as the "best cigar", because it is your own taste, your own tasting, your own searching that decides. So take your time.
I myself prefer the flavors along with the different brands and strengths – strong medium to strong and medium. Meanwhile I limit myself to the brands Cohiba, Romeo y Julieta, Monte Christo and Partagas.
Then I check the production method and look at the formats, the ring size and the degree of ripeness.
Just as important in the selection of Habanos is the place of storage:
Humidor or plastic bag in the fridge
Cigar box or drawer
Lounge or pub
Everything already experienced and frightened noticed. Outrageous.
Also take your time to create the right atmosphere and your cigar will thank you later. The aficionados also love their lighters, leather cases, matches, and cutters and view them as an expression of their personality. Likewise I always smile about the way aficionados behave when cutting, lighting and smoking. The Cuban planter, breeder and smoker usually do not have all this at his disposal. Also Ché, Fidel, and the other Barbudos did not have any special equipment.
Mostly the "Havannas" was bitten off at the mouthpiece with the teeth and lit with branches or paper at the campfire.
As smoking is increasingly banned from public places, cigar smokers are increasingly withdrawing into clubs or private homes, while enjoying additional food and drink.
Here too, everyone decides according to their own appreciation and their own self-image
Rum or whiskey,
Red wine or port wine
Coffee or tea
Buttermilk and chocolate,
Smoking or tasting.
All your decision! Even buttermilk tastes good with a
cigar 🙂
My tips on food and drink:
Crispy fried duck liver, dates and figs – Cohiba -Whisky
Pigeon with cabbage – Partagas – Torres wine
Saddle of venison with smoked beetroot – Romeo y Julieta – Port
Spicy tartar of beef – Monte Christo – buttermilk and chocolate
Please buy in food stores and pay attention to species-appropriate animal husbandry!
Where to buy cigars
I always buy my cigars from a specialist. I recommend Maximilian Herzog in Berlin, Kinne und Schenke in Leipzig, and Michael Bader in Dresden. For me in Radebeul, local proximity naturally plays an important role and therefore I expressly emphasize:
Buy from the specialist dealer near you!
They are mostly easy to find and recognizable by the HABANOS sign.
You can do much, much more with our self-developed Tabaco tours in Havana. From "Lounge to Lounge", to "Factory to Factory" in Pinar del Río and "Tobacco Grower to Tobacco Grower".
These tours we offer all year round and are always on-site at the "Festival de Habanos".
Notes from Thomas
Thomas also has some good comments that will help you when buying a cigar:
"I would have liked to have seen more details, such as that Cohiba never sells cigar boxes with glass lids, but you are always offered Cohibas with glass lids.
Or that the burned-in box number of fakes looks much different from the original.
But the most important information is that you should buy in official shops, like the Partagas factory or the Casas del Habano."
Marcel's funny buying experiences
Marcel briefly described his first buying experiences, also very instructive 😉
Oh man, when I think of my first two cigar boxes in Cuba 😉 The first one was a bargain at the hotel, real Esplendidos, almost for free.
That's how they tasted, just like the Robustos we bought from a Cuban in Havana in his kitchen. Oh man.
By the way, he had the seals in heaps in an old honey jar, and with honey they were stuck on the cigar box we bought from him. We
already knew that we would get ripped off again this time, but somehow we didn't dare to refuse, after all we were in a strange house, a young couple and the two strong Cubans.
😀 Naja afterward we were smarter and only bought in official shops.
Nevertheless it was nice.
Manfred's interesting buying recommendations
Please note: Manfred has a good source he trusts, this is not just anybody from the street:
OK, I confess: I have been smoking the "fake ones" for years, mostly in the Cohiba Robusto format. (although I don't really care which brand ring my friends put on them). Since I know the source well since many years, I have always received impeccable tobacco, although the "longfiller" quality is sometimes a little bit lacking due to used tobacco residues – then they just go out and are lit again. And if there are still some CUC left at the end of the month (rather rare), I, as a trained capitalist, can still afford the Monte Christo Series Open- Master. Whether they are worth 4 times the price (in Cuba), everyone should decide for himself.
By the way: I bought the worst cigars ever at Frankfurt airport, so I wanted to be prepared for the first Havana evening: Romeo y Julietta 2, rock hard and dry – disposable!
Sorry, dass dir der Artikel nicht gefallen hat! / We are sorry that this post was not useful for you!
Hilf uns, den Artikel besser zu machen! / Let us improve this post!
Teile uns mit, wie wir den Artikel besser machen können! / Tell us how we can improve this post?