Sorry, dass dir der Artikel nicht gefallen hat! / We are sorry that this post was not useful for you!
Hilf uns, den Artikel besser zu machen! / Let us improve this post!
Teile uns mit, wie wir den Artikel besser machen können! / Tell us how we can improve this post?
Letztes Update: 24. May 2021
Airport Cuba – which airport on Cuba you can fly to
Whoever flies to Cuba inevitably lands at these Cuban airports:
Havana,
Varadero,
Santa Clara,
Cayo Coco,
Holguin,
Santiago de Cuba,
Camagüey or
Cayo Largo del Sur
Because these 8 are the only international airports in Cuba and over 4 million tourists land at one of these airports each year.
There are a total of 154 connections to and from all airports in Cuba and the number is constantly increasing (ok, the Air Berlin bankruptcy was a setback, especially for me as a Berliner: no more direct flights from Berlin!). From small airlines flying within the Caribbean to Sunrise Airways, which now offers direct flights from Cuba to Haiti and the Dominican Republic, there are many flights passing through one of Cuba's airports each day.
While researching I came across a nice flight portal that gave me some good data that I used in this article. If you have any other information about the connecting flights, please write to me, because you know how it is with Cuba and international organizations. Due to the embargo, some connections are simply not available in the search engines, often it's Cubana or Aerogaviota that are boycotted.

Cuba's airports: they have so many connections
Havana – the capital airport
Name: José Martí Internacional
Labeling: HAV
Number of connections: 51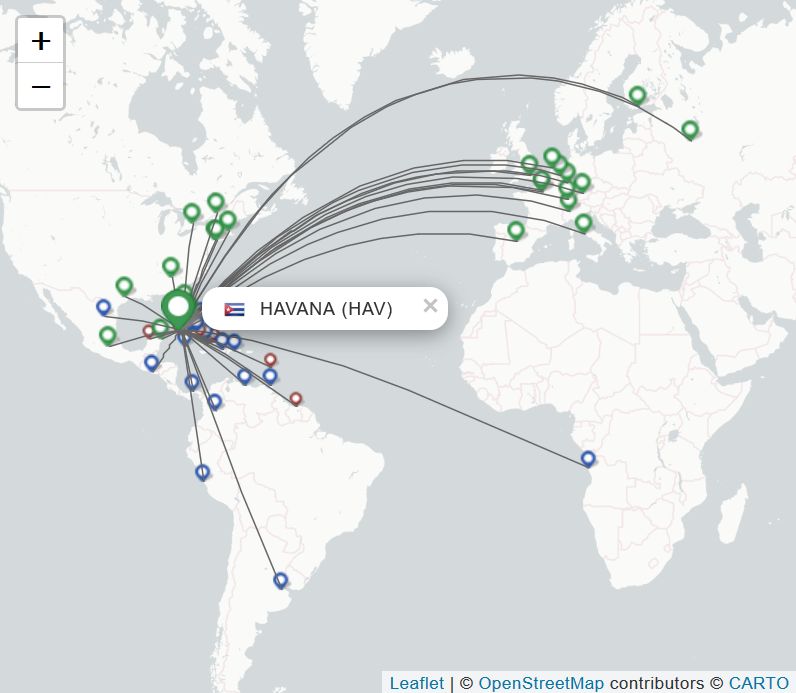 Havana's airport is the largest in Cuba, not only in terms of the size of the airport but also the number of connections. It has the most number of international connections than any other Cuban airport, with a total of 51 international connections.
Varadero – Cuba's tourist airport
Name: Juan Gualberto Gomez International
Marking VRA
Number of connections: 33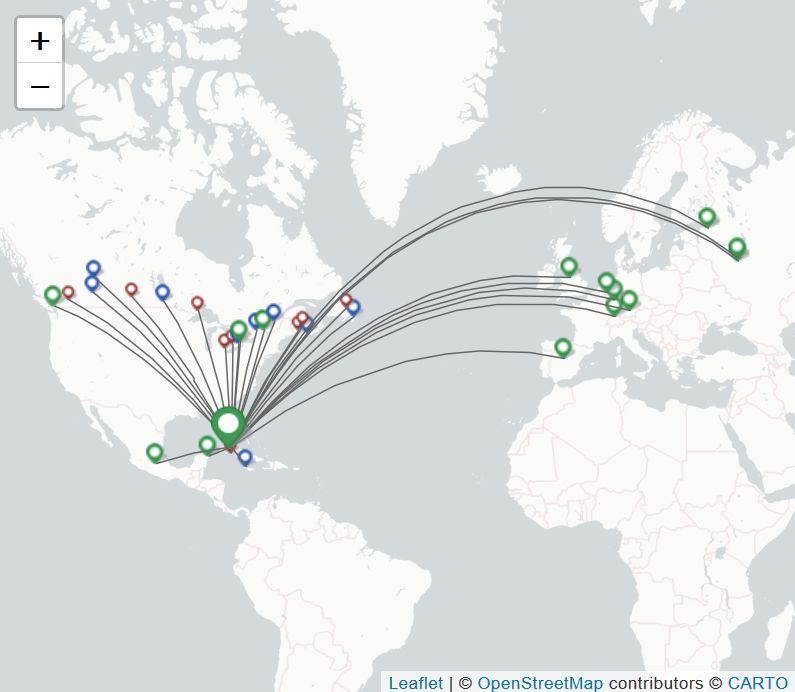 Varadero is probably the most touristy airport in Cuba, but is a little behind Havana with only 33 connections. All in all the airport in Varadero is more of a tourist airport, also a bit sleepy and rather small, many Canadians fly over Varadero, but Europe is also strongly represented.
If you want to know more about Varadero Airport, here are my insider tips for Varadero Airport.
Holguín – the airport in the midwest of Cuba
Name: Frank País
Marking HOG
Number of connections: 21
Holguín is in the middle west of Cuba. From here you can get to Bayamo, Las Tunas, or to the northern coast in the east. This leads to easy accessibility to many beautiful beaches. If you want to go from Havana to the west of the island, you would fly to Holguín.
With 21 international connections, Holguín falls behind the top airports of Havana and Varadero in terms of importance. However, the connections from Holguín go in almost all directions, so the airport is very broad.
Santa Clara – the proximity to Trinidad
Name: Abel Santamaria
Marking SNU
Number of connections: 18
Santa Clara is also served by many Canadian airlines, a classic holiday airport in the center of Cuba. Santa Clara Airport has 18 international connections, 14 to Canada, 2 to Europe, and 2 to Central America.
Fun fact: on foot it would take 56 hours to walk to Havana, and only 24 hours to Trinidad – Santa Clara is 118 kilometers from Trinidad. But you can also go to the beach in the north (Santa Clara is right in the middle of the island).
Cayo Coco – the island airport with the beautiful abbreviation CCC
Name: Jardines del Rey Airport
Marking CCC
Number of connections: 17
Cayo Coco is an international Cuban airport, it is not located on the main island of Cuba, but directly in the Cayos. So it is perfectly suited as a tourist airport – but not many planes land in Cayo Coco. There are only 17 international connections, however none are from Central Europe.
Santiago de Cuba – the neglected old capital
Name: Antonio Maceo International
Marking SCU
Number of connections: 7
Those who want to go to the east of the island usually do not fly to Santiago but go to Holguín. Santiago is rather weakly served with only 7 connections. Nevertheless, if you want to go to the Sierra Maestra or to Santiago de Cuba, you would usually fly from Havana to Santiago. There are no direct flights from Europe, and internationally only Miami and Toronto and Suriname (the new insider tip among travel bloggers) are served at this airport.
Camagüey – the airport for the Cayos
Name: Ignacio Agramonte International
Marking CMW
Number of connections: 7
From Camagüey (pronounced with "u", no heavy metal umlauts, that's a Trema!) you can easily get to the Cayos. Camagüey is located in central Cuba. It only has 7 connections so it is rather an unimportant airport compared to the others nearby (Santa Clara and Cayo Coco).
Cayo Largo del Sur – the southern Cayos
Name: Cayo Largo del Sur

Marking CYO
Number of connections: 5

The smallest of our Cuban airports with international connections is Cayo Largo del Sur. It is located on Cayo Largo, which is south of the main island and is the second airport next to Cayo Coco (which are not directly located on the main island).
Unfortunately, it can only be reached via Montreal and Toronto and from Cuba via Havana, Nueva Gerona, and Varadero. (thanks to MAT for the reference to CYO!)
Other Cuban airports
There are also other airports, but they have no international or official connections, e.g.
Manzanillo (MZO)
Cienfuegos (CFG)
Moa (MOA)
Nueva Gerona (GER)
Baracoa (BCA)
Bayamo (BYM)
Las Tunas (VTO)
Guantanamo (GAO)
Currently, there are no international flights from Holguín, but that doesn't mean it won't change due to the increasing tourism growth in Cuba.
Which airlines fly to Cuba?
Well, not many airlines fly to Cuba regularly (besides the usual suspects). Sometimes charter companies are added and newcomers can often disappear as quickly as they appeared.
Flying from Germany to Cuba
Flying from Switzerland
From Austria…
…unfortunately, I don't know any airline which flies from Austria to Cuba. In former times Condor flew directly from Vienna – I had used it to spend a nice day in beautiful Vienna and then to go by train to Berlin. But alas… gone
Flights from the rest of Europe
From the rest of Europe there are many airlines flying to Cuba, especially Air France/KLM, which take a lot from the business market. There are also many from Italy. The Italians also like to be in Cuba!
KLM (Netherlands)
Air France (France)
Alitalia (Italy)
Tui Fly Netherlands
XL Airlines France
Wamos Air (Spain)
Thomas Cook Airlines (UK )
Neos S.p.A. (Italy)
Azur Airlines (German charter airline flying from Moscow and St. Petersburg to Varadero)
Blue Panorama Airlines (Italy)
Finnair (Finland)
Virgin Atlantic (UK)
Evelop Airlines (Spain)
Iberia (Spain)
Air Europe (Spain)
Aeroflot (Russia)
Corsair (France)
Air Caraibes (based in the French overseas territory of Guadeloupe)
Airlines from the rest of the world
Surprisingly, the list is not as long as the list of European airlines, but nevertheless interesting. Some US airlines fly directly to Cuba despite the embargo (whether you are allowed to fly there is very controversial, inform yourself in advance!)
Delta Airlines (USA)
Sunwing Airlines (Canada)
WestJet Airlines (Canada)
Air Transat (Canada)
Interjet (Mexico)
American Airlines (USA)
Air Canada
Nordwind Airlines (Russia)
Copa Airlines (Panama)
JetBlue (USA)
Aeromexico (Mexico)
Southwest Airlines (USA)
Cayman Airways (Cayman Islands)
Latam Airlines (Chile)
TACA Airlines (El Salvador)
TAAG Angola Airlines
Air China (flies from Montreal, not China)
Bahamasair (Bahamas)
Sunrise Airways (Haiti)
Caribbean Airways (is a Barbadian airline – who would have known the adjective to Barbados???)
And of course there's still the good old Cubana, with which I flew to Cuba for the first time in 1992, with a stopover in Gander, Canada ? The stopover is, as far as I know, still there – no direct flights!
Direct flights to Cuba from Germany and Switzerland
The flights that are important for us come from the DACH region, so all connections here:
Eurowings
Düsseldorf – Varadero
Düsseldorf – Havana
Munich – Varadero
Munich – Havana
Munich – Santa Clara (now also bookable regularly)
Düsseldorf – Santa Clara (full charter flight)
Cologne – Varadero (full charter flight)
Condor
Frankfurt/Main – Varadero
Frankfurt/Main – Havana
Frankfurt/Main – Holguín
Edelweiss
Zurich – Varadero
Zurich – Havana
Stopover
And then there are of course the flights with stopovers, typically AirFrance or KLM, but also the TUI companies, Air Canada or even Aeroflot. From Moscow, the flight is of course much longer ?
No more departure tax or flight tax
In many old travel guides and blog articles it is still mentioned, the flight tax of 25 CUC, which you had to pay when leaving the country. Since May 1st 2015 this departure tax does not exist anymore!!
My conclusion about the airports in Cuba
Actually there is good infrastructure in Cuba, and some companies fly to the various airports in Cuba – so we cannot complain about a lack of connections. Apart from the fact that no plane from Berlin flies to Cuba… 😉
Nevertheless, I still hope that the route network will be expanded and that we will be able to fly to more airports directly from Central Europe.
What pleased me in my research is that there are now more direct flights from Cuba to the rest of the Caribbean. This makes it possible for us to take a side trip to the Cayman Islands, without always having to fly via Cancun, Mexico City, or Panama City.
All in all I am curious to see how air traffic to Cuba will develop!
Saludos,
Dietmar
PS: Instagram anyone???
Sorry, dass dir der Artikel nicht gefallen hat! / We are sorry that this post was not useful for you!
Hilf uns, den Artikel besser zu machen! / Let us improve this post!
Teile uns mit, wie wir den Artikel besser machen können! / Tell us how we can improve this post?